Zimms Organics
Regular price
Sale price
$14.00
Unit price
per
Sale
Sold out
Our cooking inspired EVOO. A well-rounded flavor profile that perfectly enhances any dish. Enjoy cooking in heat or as a finishing oil.

Uses - This olive oil works well with heat. Cook any of your favorite foods in a pan, oven or even an open flame, and let the olive oil naturally bring out the best flavors of your food.
Single Origin

- Central California

Single Varietal

- 100% Arbosana Olives

Flavor Profile

- Grassy, nutty, robust and well balanced.
Share
View full details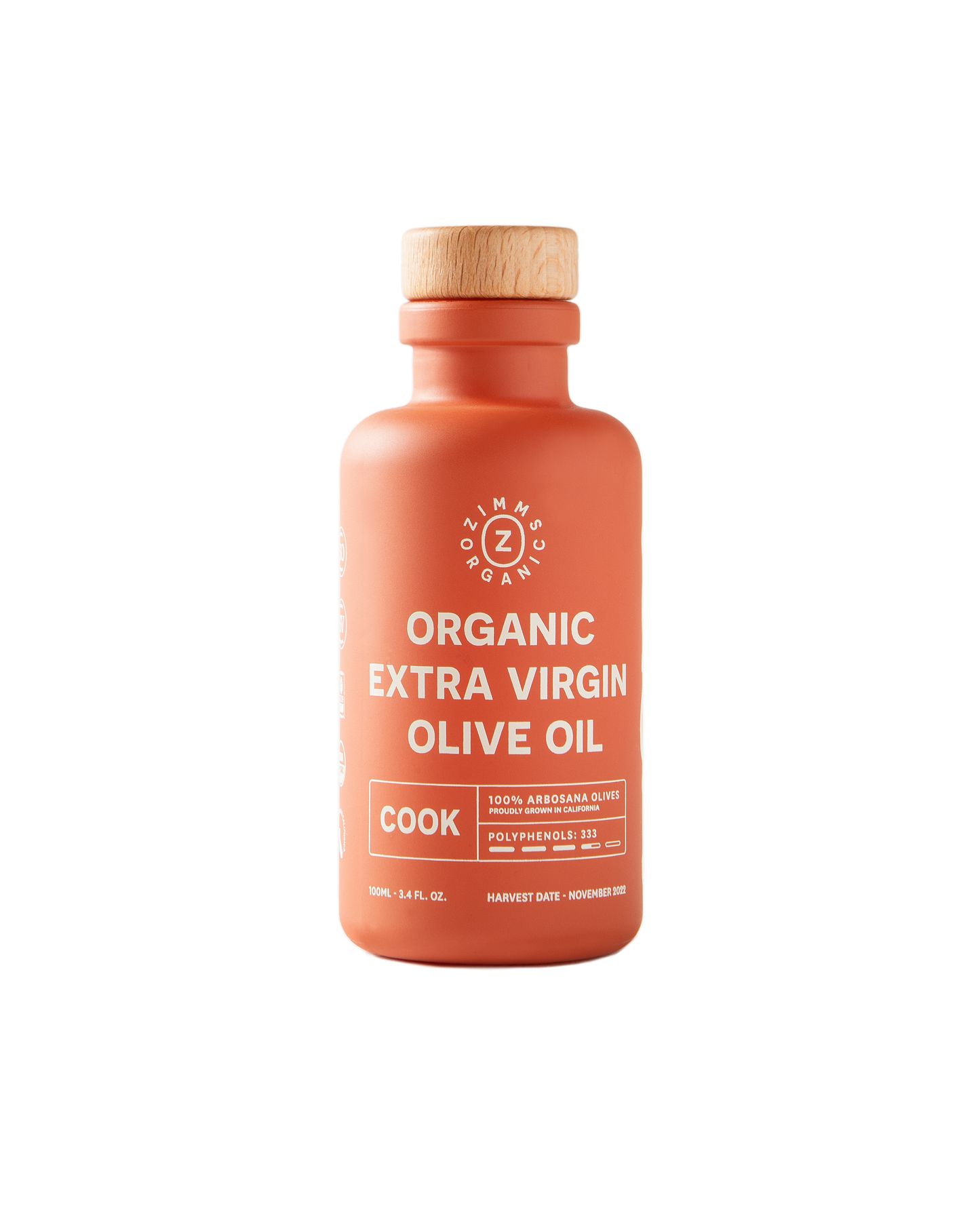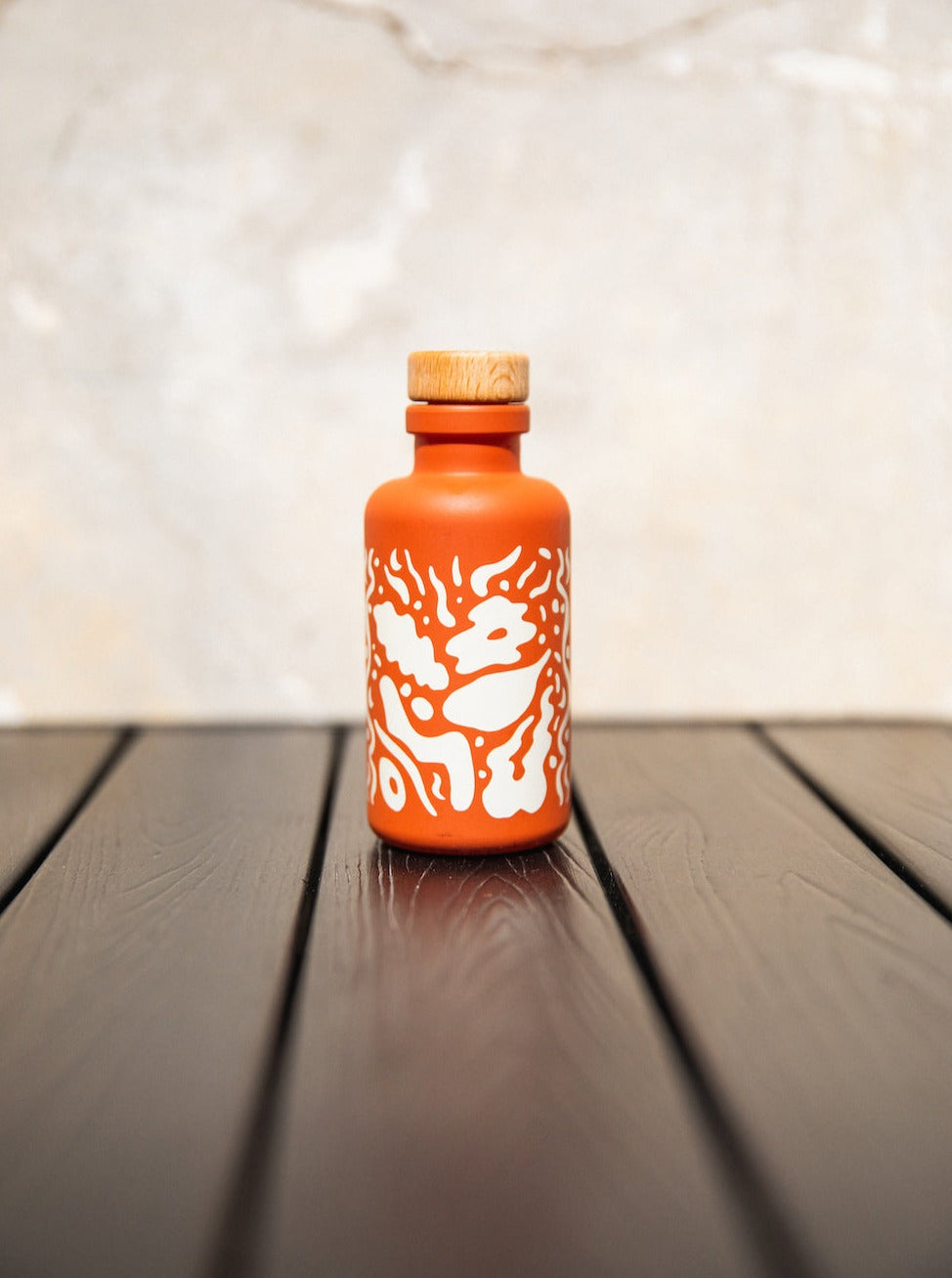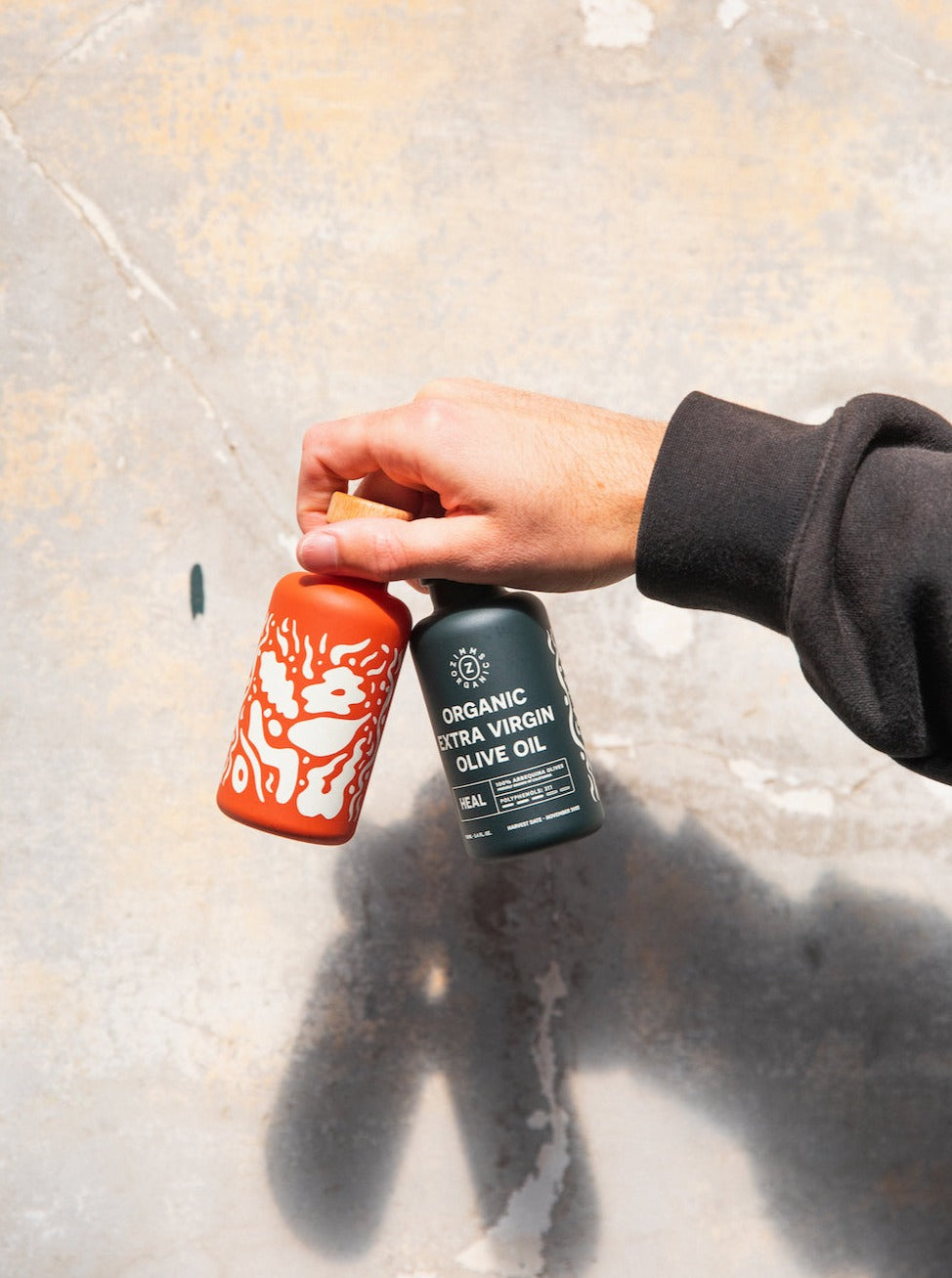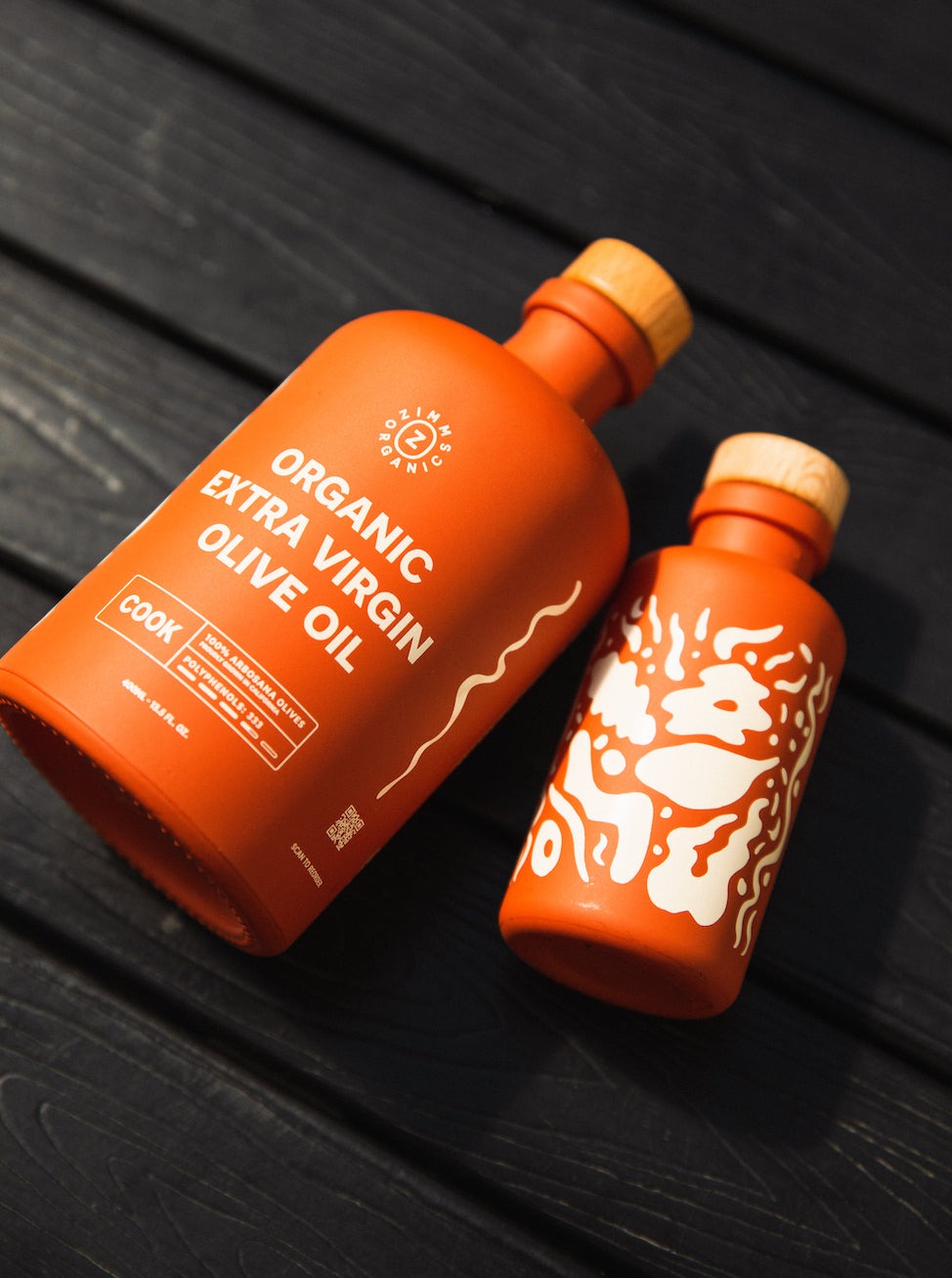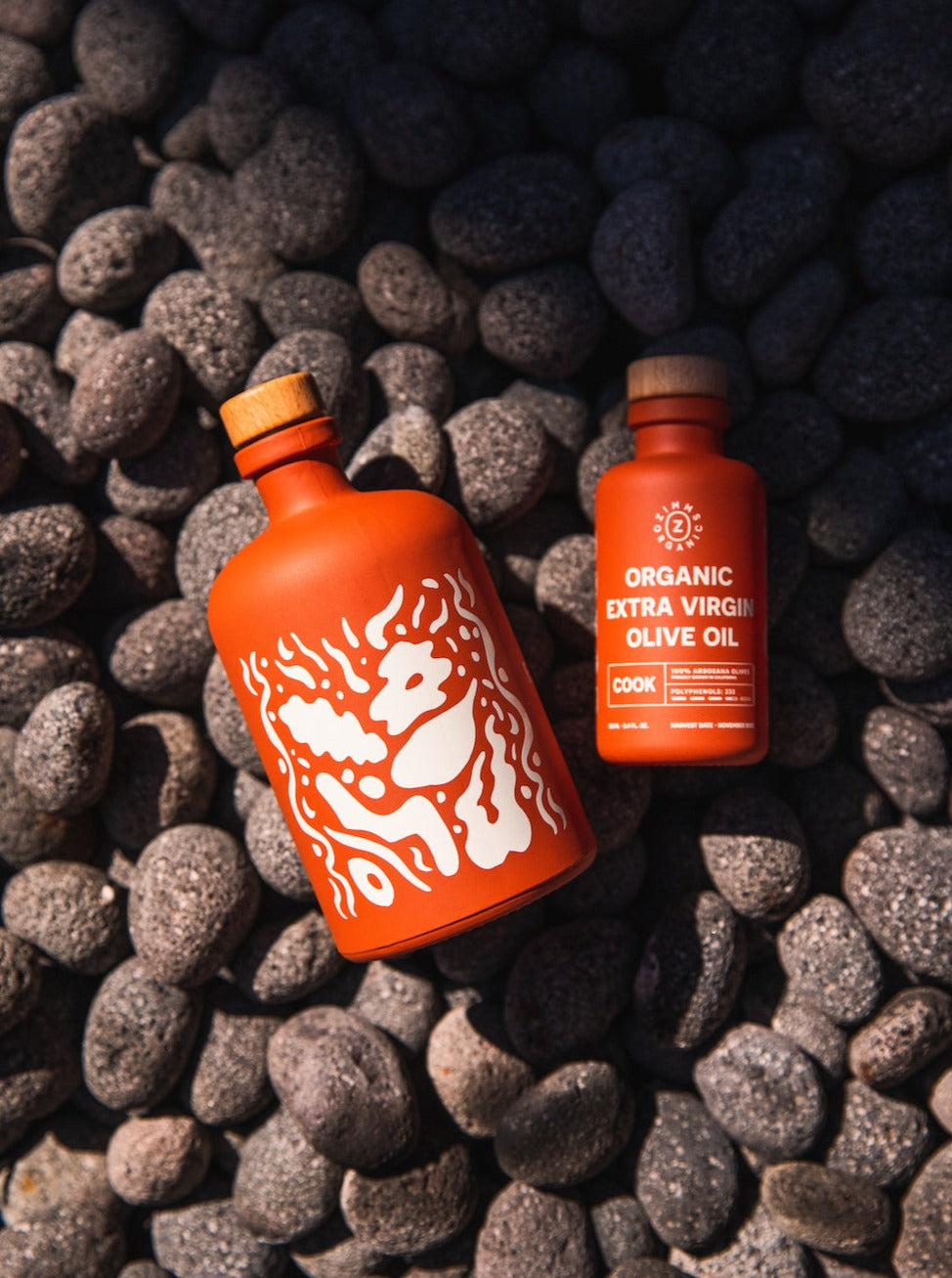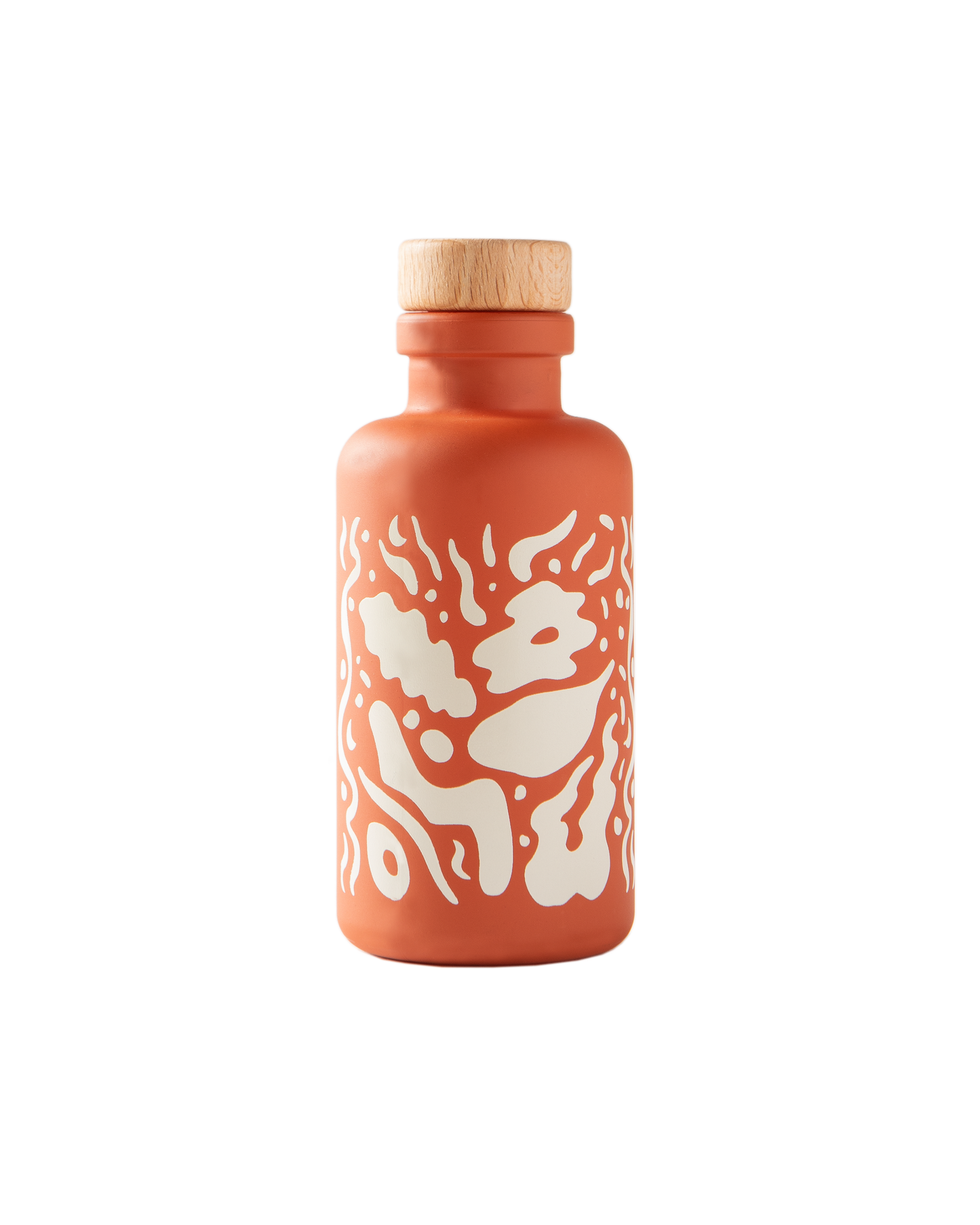 cook details
origin & harvest details

Produced by a small family farm in Central California

Zimms Organics sources only the finest olives in California, period. That means working with small family farms who have been purveyors of their craft for decades. We've sampled and tried organic extra virgin olive oil from almost every varietal of olive and farm in the state of California. We are very confident in and excited about this year's harvest and the purveyors that we've chosen to partner with. Our partner farms do things the right way. They are great people and of course, they make an amazing organic extra virgin olive oil.

Harvest Date: November 2022

The FDA says that olive oil is best consumed within 18 months of the harvest date. Quality extra virgin olive oil should be stored in a cool, dark space. The bottle should be dark or painted glass to protect the EVOO from UV light. If stored in optimal conditions, EVOO will only lose a minimal amount of potency and flavor profiles after that 18 month mark. Our bottles are painted with organic matte ink, which completely protects your EVOO from light.
ingredients

Varietal: 100% Arbosana

This mild intensity extra virgin olive oil is produced from 100% Arbosana olives grown in Central California. This EVOO has notable aromas of nuttiness, green banana and black pepper, with a full-bodied mouth feel and buttery finish.
flavor profile

Intensity & Flavor Profile: Medium - Well-rounded, full-bodied mouth feel, with a nutty, black pepper and buttery finish.

The intensity of an EVOO relates to the amount of bitterness and peppery notes experienced while tasting. An olive oil that doesn't tickle or burn the back of your throat is considered mild (low polyphenols - 100-250). A very peppery and bitter olive oil that will likely make you cough from the sensation on the back of your throat is considered strong (350-500+ polyphenols).
polyphenols

Polyphenols : 333 (mg/kg)

Polyphenols are like super antioxidant micronutrients found in healthy plant-based foods. These polyphenols give high quality organic extra virgin olive oil their incredible health benefits such as: Heart health, reducing cholesterol levels, lowering blood pressure, hair & skin health, reduces inflammation in the body and many more. The level of polyphenols varies based on region grown, ripeness at harvest, extraction methods, etc.
acidity

Acidity (%): 0.47

Acidity is a main quality parameter set by the International Olive Oil Council for extra virgin olive oil. Olive Oil must have a free fatty acid level below 0.8% to be deemed as extra virgin olive oil. This value is determined by having the EVOO analyzed by a lab for quality assurance.
how to use

How To Use:

Zimms COOK EVOO is meant for… you guessed it. COOK handles well with heat because its 333 polyphenols (mg/kg) will protect the EVOO from oxidizing. This EVOO feels like a warm hug in the winter time, which is why it is perfect for your warm dishes. COOK has a more full-bodied and well-rounded mouth feel, so it pairs well with your eggs, soups, roasting meats, veggies or really anything your heart desires. You can take a shot of this EVOO in your Sip Glass too! If you prefer the flavor for sipping, both HEAL and COOK are great for both cooking and sipping.
pairs well with

Pairs Well With

Fish
Steak
Salad
Grilled Veggies
Eggs
Yogurt
Ice cream
Cheese